About Ameritech Slope Constructors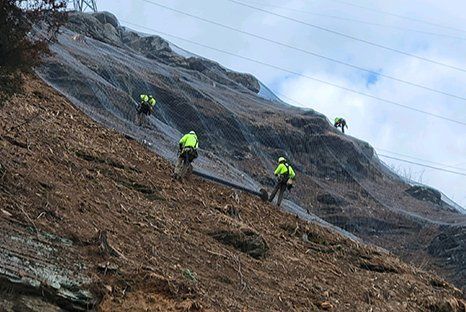 Geotechnical Contracting Specialists
Ameritech Slope Constructors is a geotechnical contracting company that specializes in the installation of geohazard protection systems. Whether it is a rock face with loose debris or an unstable soil slope showing signs of eminent slope failure, we can install the system that is necessary to provide protection for people and property. We can also assist our clients in determining what the most economical and feasible solution is to a potential problem. We use our construction and engineering experience coupled with real-world common sense to determine the best solution to each individual project.
Contact us today to schedule any of our services.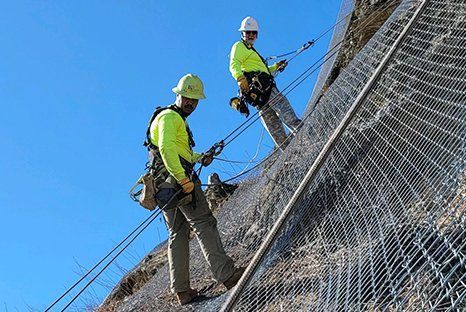 Our Mission
Our mission is to maintain the highest levels of professionalism, integrity, honesty and fairness in our relationships with our clients, employees and professional associates; to establish lasting partnerships by exceeding expectations and gaining trust through exceptional performance by every member of the Ameritech Slope Constructors team while making safety our highest priority.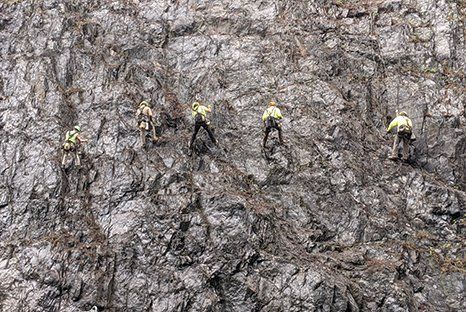 Fast, Professional Services
Ameritech Slope Constructors serves the highway, railway, utility, mining and public/private construction sectors. As rock and soil slope stabilization specialists, we utilize innovative and cost-effective construction techniques for even the most difficult of slope remediation projects. We employ highly skilled rock remediation technicians and operate some of the most specialized equipment in the industry today. We can mobilize a field specialist and crew of technicians within 24 hours or less and then follow up with the necessary additional equipment in 72 hours or less.
Meet Our Team
Principals:
Managers:
Andrew Salmaso | International Operations Manager – Canadian Division
About Us
Ameritech Slope Constructors provides comprehensive geotechnical contracting and slope stabilization solutions throughout the U.S. and Canada.
Services
High Angle or Limited Access Drilling
Rock Bolts or Dowels
Rock Drape
Rock Scaling
Rockfall or Debris Flow Barriers
Shotcrete
Slope Stabilization
Specialties
Slope Stabilization
Geotechnical Contracting
Business Hours
Call To Request A Service